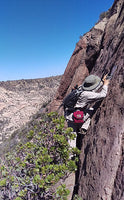 Geology Field Pouch
Keep all of your field supplies in one easy- to- access place for the best field experience.
Sturdy and affordable Plateau Design Field Pouches keep you organized with:

* Easy access to field book, pencils, markers, protractor.
* Over flap with quick-release medical grade Velcro protects contents.
* Large inner pocket for stereoscope, keys, cell phone, slim camera.
* Heavy duty 11 oz. Cordura, industrial thread, seam tape, with strong belt loops of 2″ x 4″ seatbelt webbing.
* Dimensions - 8″ wide x 9″ tall x 1.25″ deep.


Get the Field Pouch
Testimonial
I am still using my first Plateau Designs field pouch that I bought as a geology graduate student in 1994. After 17 field seasons in Idaho, Montana, and the Brooks Range of Alaska it is still durable enough to head out with me in the summer of 2011. The pouch is big enough to hold everything that needs to be readily accessible, but is small enough to not get in the way during scrambles up and across steep slopes. I recommended the pouch to all of our geology students and will certainly buy another once my original finally wears out. Thanks for the great product.

James Vogl, University of Florida